Looking to Learn More?
Based in Mallorca, Xscape Marine are the sole distributor of Invincible boats in Europe. Our centrally located head office lets us easily help customers across Spain, the Balearic Islands, France, Monaco, Italy, Slovenia, Croatia, Montenegro and Greece. Create your perfect 37' Catamaran by getting in touch with us today.
Legendary Multihull Performance
When you choose the 37' Catamaran, you can enjoy a luxury boat with endless possibilities and adventures. The 37' Catamaran is the smaller sibling to the 40' Catamaran but still shares many of its iconic characteristics. Its innovative design allows for great seakeeping ability, efficiency, and manoeuvrability regardless of the speed you're travelling.
For recreational use, the 37' Catamaran is also a great watersports platform with two conveniently located boarding ladders. If used for fishing, high speed trolling is easy when you opt for outriggers. When you come across a sizeable catch, bring it in through the hull side door for ultimate ease of access.
The 37' Catamaran also offers great storage with four in-floor compartments, a coffin box and multiple storage ports placed throughout to stow drinks and any essentials for your trip. For those interested in fishing, there are also multiple rod holders interspersed throughout for 360 degree walk around access. Choose the 37' Catamaran with confidence when you talk to our team today.
BOAT SPECIFICATIONS
| LENGTH OVERALL | BEAM | DEADRISE AT TRANSOM | WEIGHT WITH POWER | STANDARD FUEL CAPACITY | MAXIMUM HORSEPOWER |
| --- | --- | --- | --- | --- | --- |
| 37′ | 12′ | VARIABLE | 18,900 LBS | 640 GALLONS | 1,800 HP |
| 11.3 M | 3.7 M | VARIABLE | 8,573 KG | 2,910 LITRES | 1,800 HP |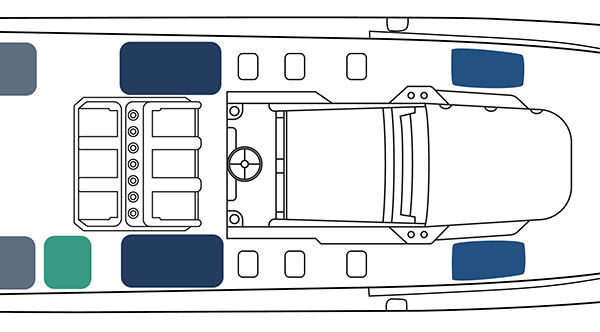 Key Features
With the 37' Catamaran, every inch of this luxury boat is utilised for ultimate recreation. Being an Invincible boat, the 37' Catamaran is highly customisable. Enjoy the endless array of features such as various power options, exceptional comfort and tournament ready performance. Expect nothing short of excellence with Xscape Marine.
Revolutionised Hull Design
The 37' Catamaran's hybrid semi asymmetrical hull was designed for ultimate performance and handling using state of the art software and simulation techniques. With the assistance of Morrelli & Melvin, this hull design with ventilating steps allows the high performance boat to lean into turns and cut through rough sea conditions for a beautifully smooth ride.
Quadruple Outboards
Boaters and passengers alike can enjoy top speeds of over 70mph or a comfortable cruise at 40mph with the 37' Catamaran's quadruple outboards. Choose from a selection of power options from Yamaha or Mercury to perfectly complement your adventures. This powerful package provides the performance you expect from an Invincible boat.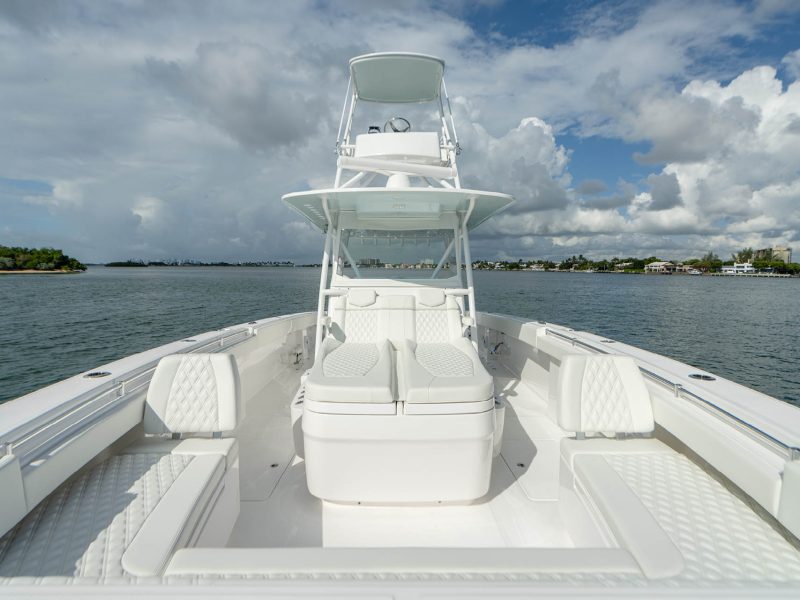 Spacious Layout
The 37' Catamaran boasts an impressive 12' beam for boaters of every ability to enjoy. The large beam offers a stable ride even in rough conditions and plenty of room for comfortable manoeuvrability. The 12' beam also allows for an enormous cockpit that is spacious enough for everyone onboard. Enjoy everything the water has to offer with all your friends and family.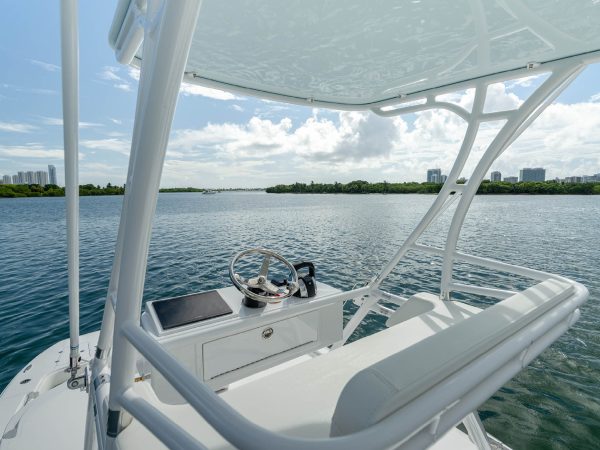 The Legend of Invincible
Invincible have not just raised the bar for premium high performance luxury boats but redefined performance standards everywhere. Since 2006, they have created designs that offer innovative solutions for serious boaters. They have created groundbreaking and intuitive designs and ensured every vessel is built with the highest quality materials.
To produce industry leading boats, Invincible seek to push boundaries and redefine the limits of what monohulls and catamarans can do. Every boat they create aims to help customers move faster, smarter and safer. Thanks to their decades of experience, you can be assured that excellence is a standard feature in every boat.
Each member of the Invincible family is designed to be legendary, and the 37' Catamaran is no exception. When you're looking to explore what the water has to offer, the 37' Catamaran is ready for your next adventure. Contact us today to find out more.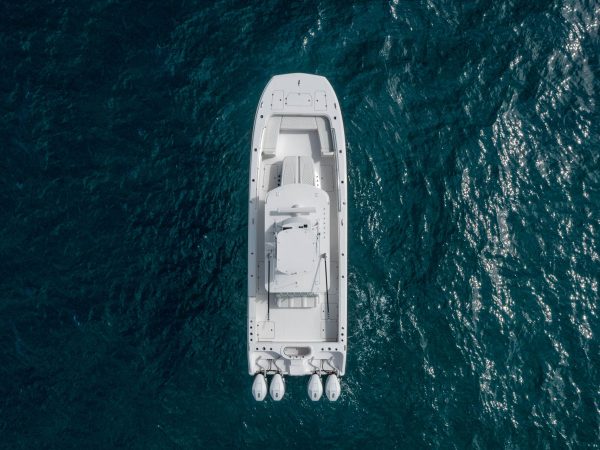 Why Choose Xscape Marine?
As well as being experts in these luxury boats, Xscape Marine are also Europe's sole distributor of Invincible's range. Our head office is in Mallorca, which makes us ideally situated to distribute boats across Spain, Mallorca, Menorca, Ibiza, France, Monaco, Italy, Slovenia, Croatia, Montenegro and Greece.
With the proficient knowledge of our team, we are confident we can help you find the catamaran or monohul to meet all your standards. Whether you are a Captain or Owner Representative looking for a tender to accompany a superyacht or perhaps a first time buyer looking for the ideal family luxury boat, Xscape Marine are here to help.
Between our incredible team, we have served the marine industry for over 20 years. We strive to provide every customer with the best possible customer care to provide a smooth and hassle free experience. Choose your next luxury boat with confidence when you choose Xscape Marine.