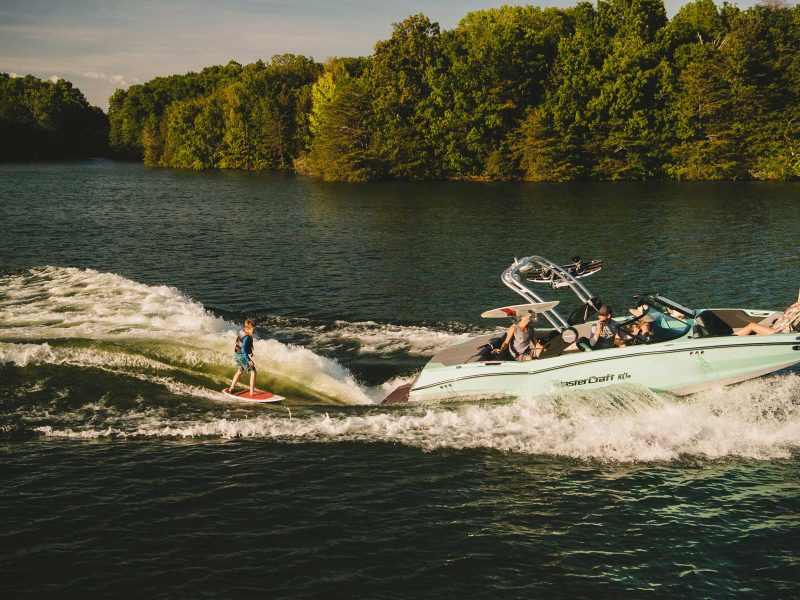 FUN FOR EVERYONE
The NXT series is the ultimate package. Whatever you're planning, be it surfing, wakeboarding or spending quality time with friends and family, you'll find something to your liking here. Each model of the MasterCraft NXT range at Xscape Marine has been upgraded for fun and functionality.
With customisation available, it's easy to see why this best selling family of high performance boats keeps customers coming back for more—Marvel at simple configurations that allow for sunbathing and watersports on any occasion.
Based in Europe, we can supply luxury boats across the Balearic Islands, including Mallorca, Ibiza, Formentera and Menorca. Find your perfect NXT and start your MasterCraft journey by exploring the range today.
WHICH NXT IS RIGHT FOR YOU?
FEATURES OF THE NXT
With a fleet of luxury boats, Xscape Marine has plenty to offer. Whether you're a first time buyer or looking for a superior addition to your collection, we have plenty of choices. Each member of the NXT family offers a premium experience with the MasterCraft promise of quality.
Make it Your Own
All our NXT towboats have been engineered to allow for maximum customisation. For the ultimate watersports occasion, storage for equipment is everywhere from bow to stern. For those wishing to relax, seats can be arranged for the perfect comfort. Make the NXT yours.
Smooth Lines
Beautifully constructed, the NXT range comes in a range of sizes. Each model has been designed to maximise space and allow room for up to 16 people. These luxury boats offer the complete package with their smooth lines and polished finish.
Ride Unique Waves
Whatever you are looking for, the NXT series of towboats have been engineered for fun. Beginners and experts can enjoy SurfStar technology with its user friendly interface. These powerful engines pack will put a smile on everyone onboard and towing behind.
SURFSTAR SYSTEM
The SurfStar system comes installed specifically for each model on our NXT range. This state of the art programme allows users to make a selection of wave shapes and sizes. Every experience is unique with this cutting edge technology.
With a range of custom profiles to choose from, first time riders and seasoned professionals alike will find something to their liking here. Enjoy the latest on the market, whether riding the waves or leisurely watching the fun unfold. For more information about NXT or SurfStar, contact our European office for further details
European Champions
The Xscape Marine team has extensive experience distributing market leading boats. We can supply to customers throughout the surrounding Balearic Islands. We're here to help you find the perfect towboat for any occasion.
We are based in Mallorca and are committed to delivering customer satisfaction. We welcome all clients, from individual families to competitive sportspeople. Talk to us about your expectations, and we can guide you with our expert knowledge to find you the perfect MasterCraft NXT boat.
Explore our other ranges to compare and find what best suits your needs. We're here to help and welcome you to contact us for more information.