WELCOME TO XSCAPE MARINE
Innovating the Marine Industry for Over 20 Years
Xscape Marine has been established in the Marine Industry for over 20 years and has a head office ideally situated in Mallorca in the Balearic Islands. Xscape Marine offers customers an outstanding level of professional service and aftersales support.
Having supplied premium quality luxury boats all over Europe, our team are fully committed to meeting the needs of every client. If it's an individual family looking to make a purchase, or for a Captain or Owners Representative seeking a boat to accompany a superyacht with a tender, we are sure to be able to supply the perfect boat for you
We are confident having supplied boats across Europe, including Spain, the Balearic Islands, Monaco, France, Italy, Slovenia, Croatia, Montenegro and Greece, that we can supply a premium quality product that exceeds your expectations in every way.
Whether you are a new or seasoned boat owner, looking for a premium high performance boat or searching for a competitive sportfishing or watersports boat, the team at Xscape Marine are here to support you through every step of the process.
Adventure Awaits With Invincible
For unrivalled sportfishing and seakeeping ability, Invincible is the undisputed industry leader. Rule the waves with Invincible by exploring our range.
Explore Model Range
View Boat Stock
Unlock the MasterCraft Experience
For over 50 years, MasterCraft has been a pioneer of unbeatable quality, performance and style. Find your perfect MasterCraft with Xscape Marine.
Explore Model Range
View Boat Stock
Why Choose Xscape Marine?
01.
Experienced Suppliers
Our extensive experience in supplying luxury boats across Europe means we offer expert help and advice as well as exclusive monohulls, catamarans, watersport boats and more. We work with world leading manufacturers of premium boats that are revolutionising the industry with innovative design and modern technology.
02.
Ideal Location
Our European head office is conveniently located in Mallorca, meaning we can easily supply our luxury boats to nearby territories. The territories we supply to include Spain, the Balearic Islands (Mallorca, Ibiza & Menorca), France, Monaco, Italy, Slovenia, Croatia, Montenegro and Greece. Choose Xscape Marine for your next bespoke luxury boat.
03.
Outstanding Service
With over 20 years of industry experience, we have a comprehensive understanding of the requirements of our customers. Whether your new luxury boat is to be used for business or pleasure, our experienced team of professionals will gladly help you decide which is the right one for you when you choose Xscape Marine.
04.
Unrivalled Performance
Our high performance boats are designed and built to deliver the best performance possible for ultimate enjoyment on the water. With the choice of several power units and the chance to customise from bow to stern, Xscape Marine will help you find your perfect luxury boat without compromising on quality, performance or style.
05.
Exceptional Support
Here at Xscape Marine, we are committed to providing our customers with the best experience. That is why we strive to make the process as smooth and hassle free as possible. Furthermore, our support doesn't end once you receive your selected luxury boat. We offer incredible aftersales support for any queries you may have.
06.
State of the Art Models
Every boat we supply has been built using only the finest materials and most current techniques available. Whether you are looking for a vessel for competitive sportfishing or watersports or even just spending the day leisurely enjoying time on the water, you can be sure that every inch of your new luxury boat is designed for perfection.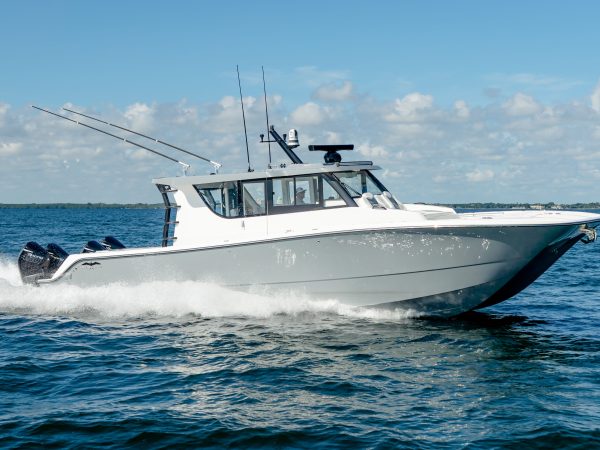 Tailored to You
There is truly a boat for everyone in our lineup, from compact monohulls to expansive catamarans, high performance watersport boats and more. Every model can be adapted and customised to suit individual preferences, meaning that creating the perfect premium quality vessel has never been easier. Why not head over to our gallery for some inspiration?
The boats we offer are designed to provide nothing less than excellence, ensuring an unforgettable experience for everyone onboard. Customise every aspect of your new luxury boat to suit your style and create a vessel that is truly unique to you
With multiple amenities and features onboard, our range proves that you can enjoy both comfort and functionality without compromise—experience offshore boating like never before when you choose a luxury boat from Xscape Marine.
Talk to our Team
Whether you are a first time buyer searching for the ideal family boat or a seasoned boater looking for the newest model, we are here to help you find the perfect vessel to suit your needs. Our head office is located in Mallorca, and we are ready when you are to discuss your luxury boat requirements.
With our central head office location, we can work throughout Spain, the Balearic Islands (Mallorca, Ibiza & Menorca), France, Monaco, Italy, Slovenia, Croatia, Montenegro and Greece. Our experience in supplying across Europe means that you can choose your next boat with confidence, when you choose Xscape Marine.
If you would like to find out more about our services or discuss your requirements further, just get in touch with us. To talk to a member of our team, you can call us on +34 664 086 008 or +44 (0)7786 833710. Alternatively, you can email us at michael@xscape.es for more information.
TESTIMONIALS
What Our Customers Say
Scott Taylor
Watersports World
Having just taken delivery of our second new boat we are totally delighted. The boat is incredible and the team offers us a great service, we are delighted to partner with them at some joint events we do throughout each season.
Warren Wojoweda
Private Client
I would like to say a big thank you to Michael and all the team. This is the 6th new boat that I have purchased from them, and once again I am delighted. I felt the purchase process was as always, one that offered me a relaxed and enjoyable experience, and the boat is first class in everyway.
Edward Cumberland
Second Officer – Superyacht Client
I feel the whole process has been very good we have had good updates all the way through the project and any queries/questions answered promptly. Once delivered, the training and instruction was fantastic, it was a great insight as to how the boat works, its features and how it handles. It was great to have the whole day to go over everything and not to feel rushed through the whole process. Thanks for all your help and we would definitely recommend your company in the industry.
Stephen Macintosh
Private Client
I have had many new boats now and try to change my boat each season from the latest model. Michael and the team are brilliant from the point of sale, to the aftersales support they offer through the season. Keep up the good work!
Peter Bradley
Private Client
Having just taken delivery of my new boat, I would just like to express my thanks for a great level of service. As I use my boat at my holiday home in Spain it is important to me that the aftersales is efficient and supportive, which I am delighted to say is always the case, when I have a requirement. Having had many new boats now I am pleased with the product, a great boat from a great company!
Paul Sinclair
Private Client
It's all too easy to write a review when things go wrong, but when you find a brand and receive a service that goes above and beyond your expectations, it's worth a 5* review. Darren and the team have been superb. Boat condition, delivery and after sales were as you'd hope. You only really know how good any supplier is when things go wrong, I had a small issue with the boat a few days after arrival - I let Darren know and within 12 hrs he'd ordered a replacement part and organised for one of his team to come and make good the issue. Great service! Would thoroughly recommend Darren and the team to anyone looking for a new boat.
Ewan McConnell
Private Client
Fantastic service from Darren and Peter. It's our first boat and we bought her without viewing. We were not disappointed and would buy again with confidence!