Driving a MasterCraft is truly unlike anything else. 
Its top-notch construction, superior components, and cutting-edge innovations give our boats more strength and precision, along with better visibility and manoeuvrability. To make driving even more enjoyable, MasterCraft is constantly updating, innovating, and adding new features. 
Each MasterCraft can be customised to offer the most secure and potent driving experience on the towboat market, with options ranging from docking aids like our patented DockStar Handling System and the industry's most potent stern thruster to comfort and convenience features like the most intuitive touchscreen display and underwater exhaust.
STERN THRUSTER
With the most user-friendly and potent stern thruster on the market, picking up riders, loading your boat onto the trailer, and docking are now easier than ever. You can spin 360 degrees in under 30 seconds thanks to MasterCraft's stern thruster control, which is fully integrated into the throttle. The stern thruster is available on all X Family models and the XStar S.
DOCKSTAR
DockStar boosts driver confidence by making it simpler to manoeuvre through congested areas like docks and marinas. The DockStar system, which has two flanking rudders in front of the prop to control water flow in reverse, makes manoeuvring and reversing so much simpler. DockStar is available on all models, with the exception of the ProStar.
UNDERWATER EXHAUST
The underwater exhaust on MasterCraft significantly lowers noise inside and behind the boat, making it easy to enjoy music whether you're on deck or wakesurfing. Now included as standard on all XT, X, and XStar S models.
DASHES
With MasterCraft's dash options, you can customise your vehicle to your specific tastes. You can design your cockpit however you like, whether you prefer analogue gauges or a dual screen digital setup.
NXT DASH
All-new standard NXT dash features an intuitive 7" touchscreen, making it easy to enjoy your MasterCraft your way.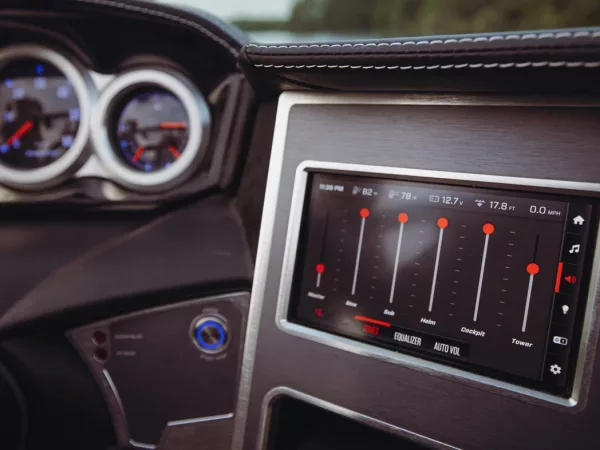 7" SCREEN
The MasterCraft Standard XT and X dash has a full 7" screen and analog dash gauges, making an intuitive and easy-to-use interface.
DUAL SCREEN
Both the MasterCraft XT and X families have an upgraded dash. While this dash is standard on XStar S, it's a definite upgrade for the XT and X. The new dash includes one 11" touchscreen and one 12" display screen with a rear-facing camera.
PROSTAR DASH
The standard ProStar dash features a 10″ touchscreen with the most intuitive slalom, trick, and jump software. Perfect for thrill-seekers looking for the perfect wave on the Med!