Looking to Learn More?
With a central head office conveniently located in Mallorca, Xscape Marine can easily assist customers across Spain, the Balearic Islands, France, Monaco, Italy, Slovenia, Croatia, Montenegro and Greece. We are the sole distributor of Invincible boats in Europe, so create the perfect 40' Catamaran by contacting a member of our team today.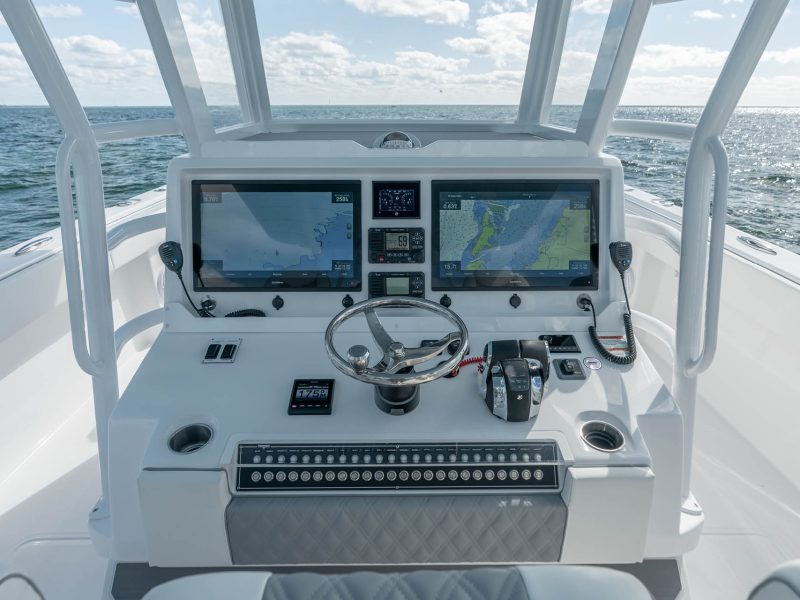 The Trailblazing Centre Console
The 40' Catamaran offers unprecedented performance in speed, handling and seakeeping ability. When you choose the 40' Catamaran from Invincible, you can experience the height of design and innovation. Engineered to take on big seas with ease, this multihull has the speed, room and range to take you and your crew on your greatest adventure yet.
360 degree walk around access means that you can enjoy unhampered views and socialisation from anywhere on the deck. The 40' Catamaran features multiple storage ports to stow everything you could need out on the water, so you can stow away everything you need to stay out on the water from dusk until dawn.
If you are interested in fishing, the flat bow design provides a stable platform whether you are adrift or trolling. It is also an ideal station to use cast nets and bring your prized catch onboard.  When you choose the 40' Catamaran, you know excellence is assured. Contact us to find out more.
BOAT SPECIFICATIONS
| LENGTH OVERALL | BEAM | DEADRISE AT TRANSOM | WEIGHT WITH POWER | STANDARD FUEL CAPACITY | MAXIMUM HORSEPOWER |
| --- | --- | --- | --- | --- | --- |
| 40′ 2″ | 12′ | VARIABLE | 21,500 LBS | 800 GALLONS | 1,800 HP |
| 12.2 M | 3.7 M | VARIABLE | 9,752 KG | 3,637 LITRES | 1,800 HP |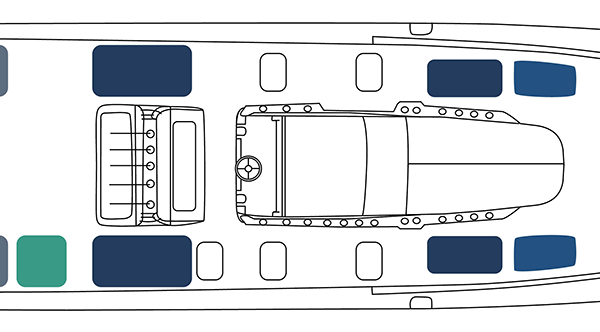 Key Features
The 40' Catamaran has no shortage of incredible fixtures to complement any serious boater perfectly. Creating a high performance boat optimised to your preferences has never been easier with many customisable options. The 40' Catamaran has an array of features, including multiple power options and luxurious comfort for industry leading quality.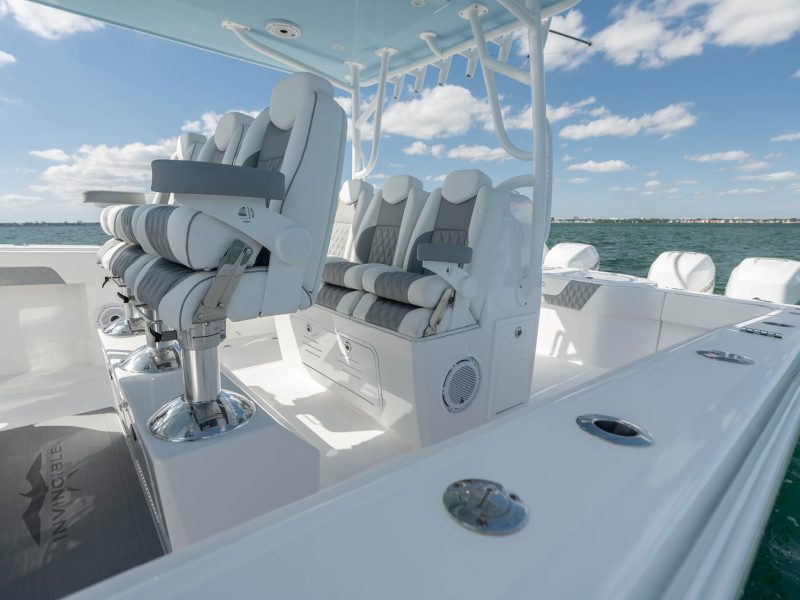 Impressive Seating Capacity
When onboard the 40' Catamaran, you'll never have to worry about seating. As well as dual row seating protected by the largest T-top available in the Invincible family, seating options are scattered throughout the deck. Passengers can choose between the ergonomically shaped console lounger, rear jump seats or pull out tackle station seating.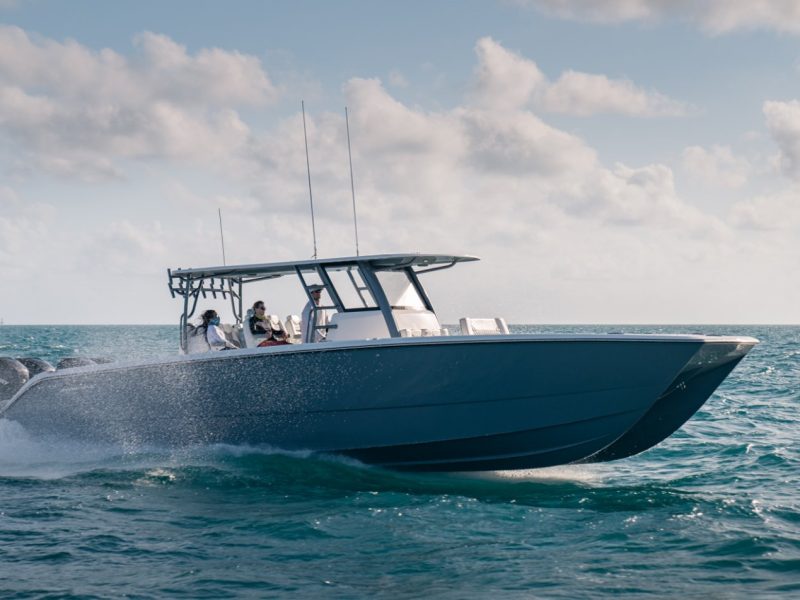 Reimagined Catamaran Hull
The 40' Catamaran was the first Invincible boat to use Morrelli & Melvin's patented hybrid semi asymmetrical hull. This revolutionary design is known for its great speed and fuel efficiency and the ability to provide incredible stability when turning. The ventilating steps allow the vessel to lean into turns and cut through rough sea conditions.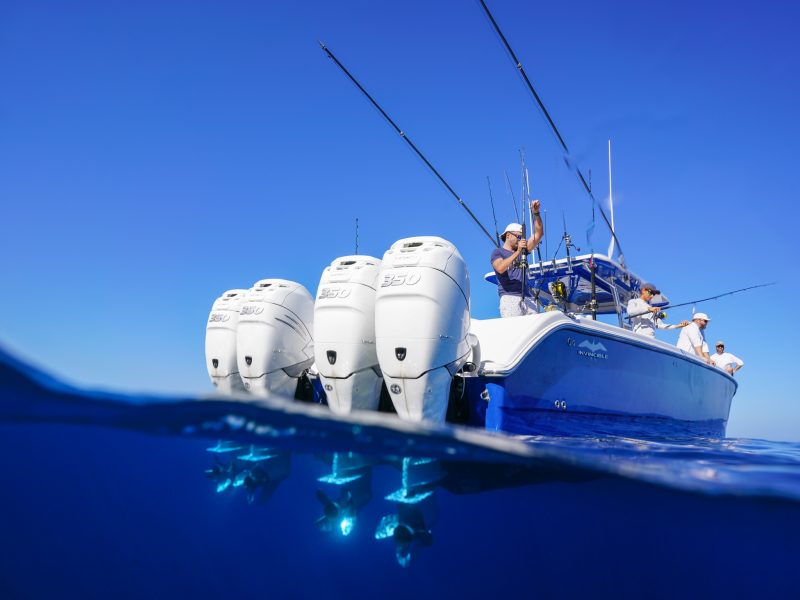 Quad Outboard Configuration
For those looking for a serious luxury boat, look no further than the 40' Catamaran. With a quadruple outboard configuration, passengers can enjoy top speeds of over 80mph. Select from an array of power options from Yamaha and Mercury to get you where you want to go quickly and safely. Expect nothing less than excellence with the 40' Catamaran.
Invincible Excellence
An Invincible boat is nothing short of innovation at its finest. Since 2006, they have worked to create revolutionary boats that redefine what the world thinks monohulls and catamarans can do. Each boat is designed and created with your wishes in mind whilst ensuring every inch from bow to stern is built to their exacting standards.
The team at Invincible seek to redefine limits and push the boundaries of what luxury boats can achieve. Using their decades of experience in creating luxury boats that are ideal for sportfishing, they are helping boaters of every skill level move faster and smarter. The 40' Catamaran is ready for your next adventure.
In every model of the Invincible lineup, they utilise an unparalleled combination of experience, state of the art design tools and premium materials to revolutionise the boundaries of high performance luxury boats. The Invincible family is designed to be legendary, and the 40' Catamaran is no exception. Contact us today to discuss the 40' Catamaran in further detail.
Why Choose Xscape Marine?
Xscape Marine are experts in premium offshore luxury boats and the sole distributor of Invincible boats in Europe. With our head office centrally located in Mallorca, we are ideally situated to help customers across Spain, the Balearic Islands, France, Monaco, Italy, Slovenia, Croatia, Montenegro and Greece.
Our experienced team have served the marine industry for over 20 years between them and are dedicated to helping you find the perfect boat that meets all your needs. With the specialised expertise of Xscape Marine's team of professionals, we are confident that we can supply the perfect 40' Catamaran for you.
Whether you are a first time buyer looking for the ideal family luxury boat or perhaps a seasoned angler looking for your next tournament winner, Xscape Marine are here to help. We aim to provide a smooth and hassle free experience for every customer by offering the best customer care and support.