Looking to Learn More?
Xscape Marine are the sole distributor of Invincible boats across Europe and are based in Mallorca. With the central location of our head office, we are perfectly situated to help customers across Spain, the Balearic Islands, France, Monaco, Italy, Slovenia, Croatia, Montenegro and Greece. Contact us today to create your perfect 33' Catamaran.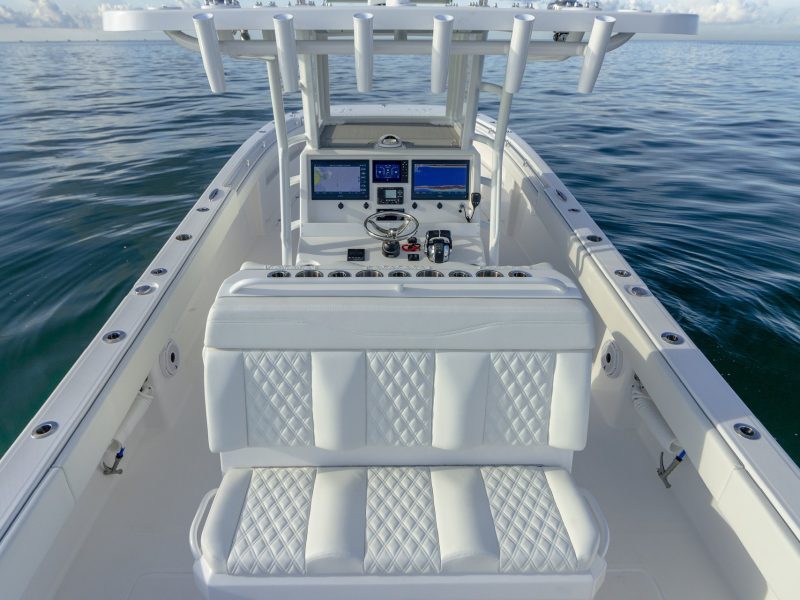 A New Size of Serious
Enjoy industry leading performance in an incredibly convenient concentrated form with the 33' Catamaran. Every inch of this luxury vessel is designed to provide the ultimate luxury boat experience. For those interested in fishing, convenience has never been more accessible with the forty seven rod holders interspersed throughout for 360 degree walk around fishability.
The 33' Catamaran is a smaller boat with big boat features. Alongside the convenience of a smaller vessel, the 33' Catamaran borrows elements from other members of the Invincible family. Utilising the leaning post and livewells from the 35' Catamaran, it also uses the same console and helm station layout as the 36' Monohull.
Like the other models in the catamaran lineup, the 33' Catamaran is built for serious luxury and comfort. Its centre console design offers a more spacious layout with exceptional stability. The Morrelli & Melvin hull also means that it can remain perfectly level at all speeds, even in rough waters. Contact us to find out more.
BOAT SPECIFICATIONS
| LENGTH OVERALL | BEAM | DEADRISE AT TRANSOM | WEIGHT WITH POWER | STANDARD FUEL CAPACITY | MAXIMUM HORSEPOWER |
| --- | --- | --- | --- | --- | --- |
| 33′ 11″ | 10′ 3″ | VARIABLE | 14,000 LBS | 400 GALLONS | 900 HP |
| 10.3 M | 3.1 M | VARIABLE | 6,350 KG | 1,514 LITRES | 900 HP |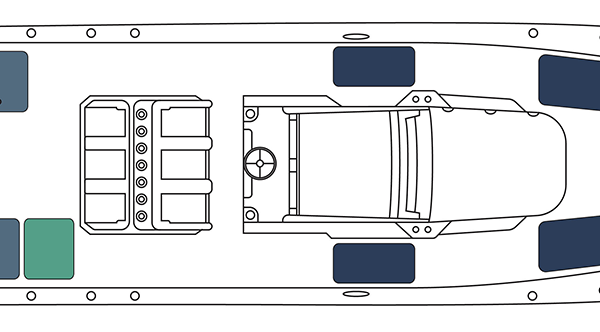 Key Features
Hosting an exceptional array of iconic features, the 33' Catamaran is perfect for both leisurely cruises and tournaments alike. This luxury boat offers incredible comfort and performance without compromising on either. Like all boats from Invincible, the 33' Catamaran is built for optimal convenience and enjoyment.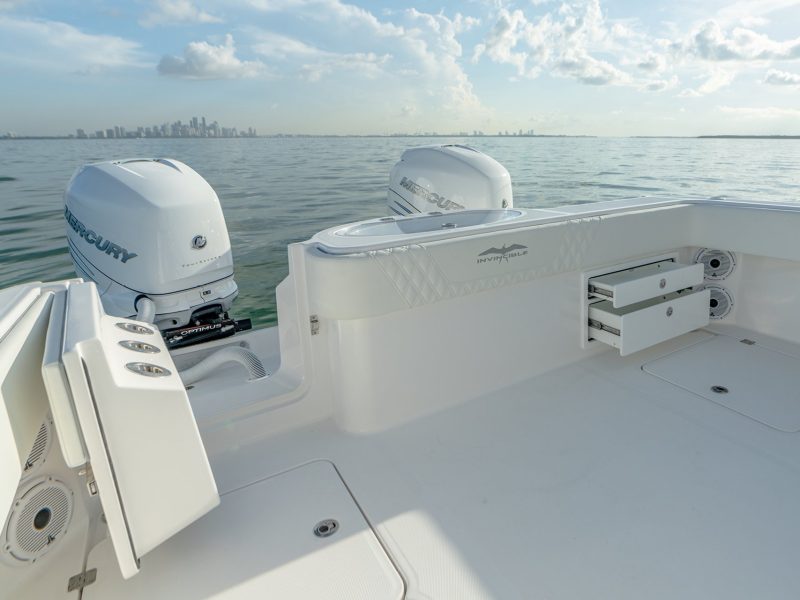 Twin Outboards
Trim Tabs
With twin outboard power, there is ample room on the sponson for the addition of trim tabs. Although not typical for most catamarans, adding trim tabs to the 33' Catamaran helps keep balance and stability. Enjoy a more precise running angle and improved performance with the 33' Catamaran's trim tabs.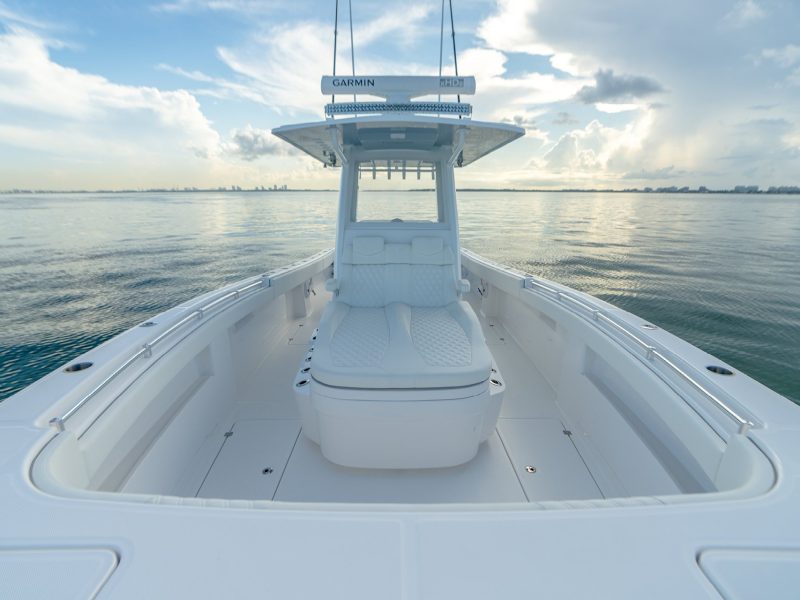 Hybrid Semi Asymmetrical Hull
The ever popular 33' Catamaran was created using the hybrid semi asymmetrical hull designed by Morrelli & Melvin. This design provides great seakeeping ability and allows it to lean inward into turns without any awkward outboard heeling. This luxury boat combines the best of both worlds without compromise.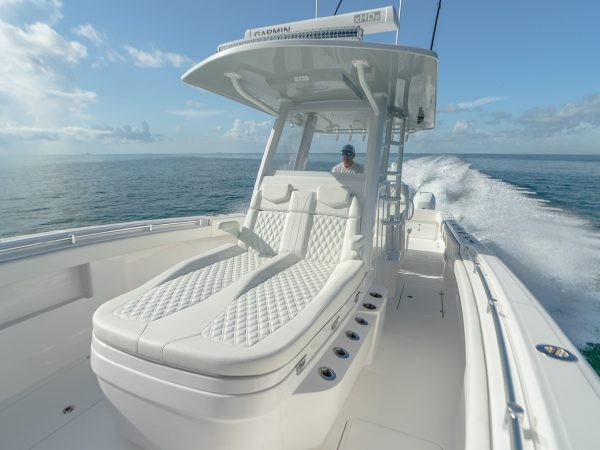 The Power of Invincible
Invincible have been frontline pioneers of the marine industry since 2006. Since then, they have engineered the fastest and flattest riding hulls in the business that must be tried to truly experience the difference. With their decades of industry experience, you can trust that excellence comes as standard with the 33' Catamaran.
Since the beginning, they have sought to redefine the limits of what a catamaran can do. Each boat is manufactured by expert builders who use only the most current techniques and the highest quality materials available. Whether used for fishing or to leisurely traverse the waves, you can expect an unparalleled experience from your 33' Catamaran.
Their goal is to provide serious boaters with serious solutions. With many customisable options, it's never been easier to create a unique vessel to suit you. If you are looking for a premium luxury boat, there is an Invincible for you. Accept nothing less than the best with the 33' Catamaran. Get in touch today.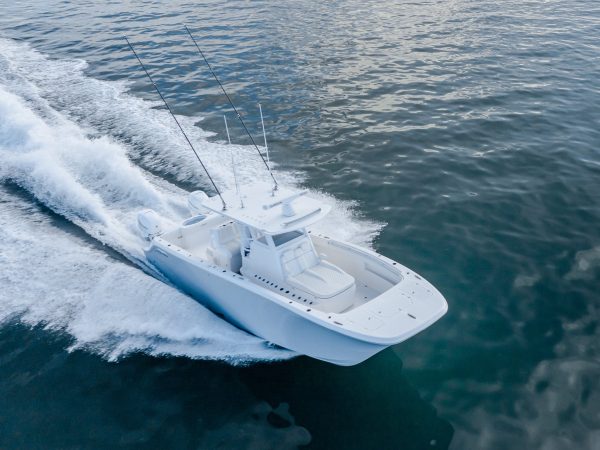 Why Choose Xscape Marine?
As the sole distributor of Invincible boats within Europe, we are the ones to call when it comes to premium offshore luxury boats. Our head office is based in Mallorca, which means we are ideally situated to assist customers in Spain, the Balearic Islands, France, Monaco, Italy, Slovenia, Croatia, Montenegro and Greece.
Between our expert team, we have served the marine industry for over 20 years, helping customers find the perfect boat. Whether you are a seasoned boat owner or buying a boat for the first time, you can expect only the best customer service and industry expertise from Xscape Marine.
In our years of service, we have helped Captains and Owner Representatives find the ideal tender to accompany a superyacht and families looking for the perfect luxury boat. Xscape Marine will always strive to go above and beyond to provide you with an unbeatable experience.