Looking to Learn More?
Xscape Marine are Europe's sole distributor of Invincible boats with a head office in Mallorca. As a result of our central location, we can easily assist customers across Spain, the Balearic Islands, France, Monaco, Italy, Slovenia, Croatia, Montenegro and Greece. To create your perfect 35' Catamaran, contact us to talk with a member of our team today.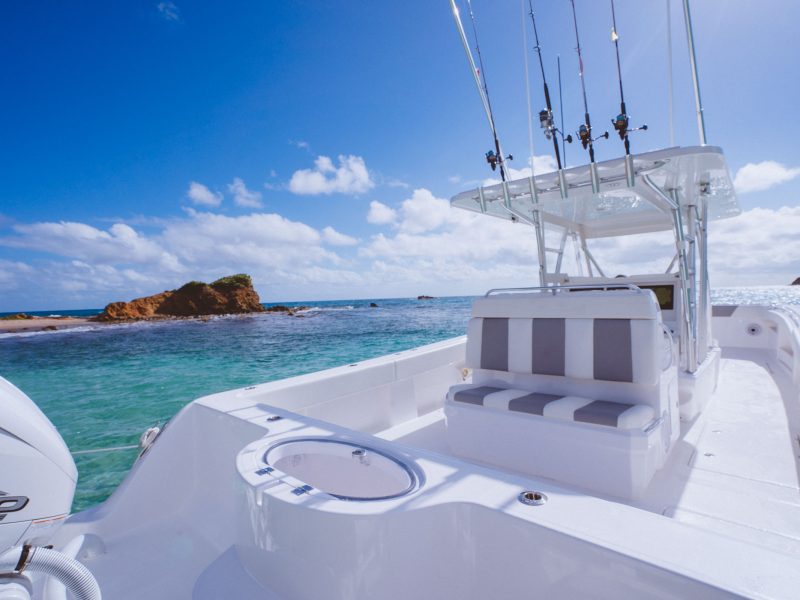 Incredible Versatility & Functionality
With the 35' Catamaran, you can enjoy industry leading quality and performance in an incredibly compact form. As well as being a speedy and comfortable ride with smooth handling, the 35' Catamaran offers unparalleled performance and space for a boat of its size. This results from the huge cockpit and deck layout onboard.
The 360 degree walk around layout means you can enjoy unimpeded views and socialisation from anywhere on the boat. If you're looking to fish, this convenient layout will also let you cast from any point of the boat with ease.
The 35' Catamaran has many customisable options, including the helm, engines and even the seating. Whether you're cruising the waves of the Balearic Sea or chasing tuna across the Mediterranean, a 35' Catamaran can be built the way you'd like it. To find out more, contact us today to discuss your luxury boat requirements.
BOAT SPECIFICATIONS
| LENGTH OVERALL | BEAM | DEADRISE AT TRANSOM | WEIGHT WITH POWER | STANDARD FUEL CAPACITY | MAXIMUM HORSEPOWER |
| --- | --- | --- | --- | --- | --- |
| 35′ 10″ | 11′ 7.5″ | VARIABLE | 17,100 LBS | 550 GALLONS | 1,200 HP |
| 10.7 M | 3.5 M | VARIABLE | 7,756 KG | 2,500 LITRES | 1,200 HP |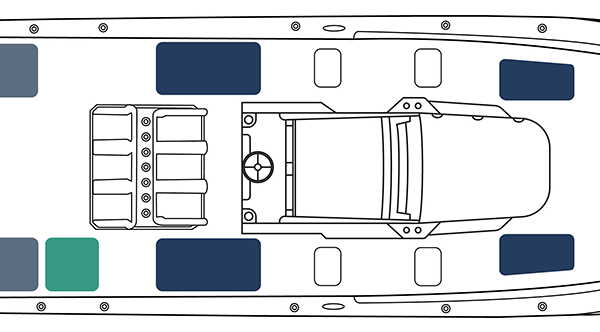 Key Features
The 35' Catamaran has an incredible array of features to allow for ultimate ease and enjoyment on the water. From the various power options to the generous storage, you can have exceptional performance and comfort without compromise. Enjoy big catamaran performance in a smaller package with the 35' Catamaran.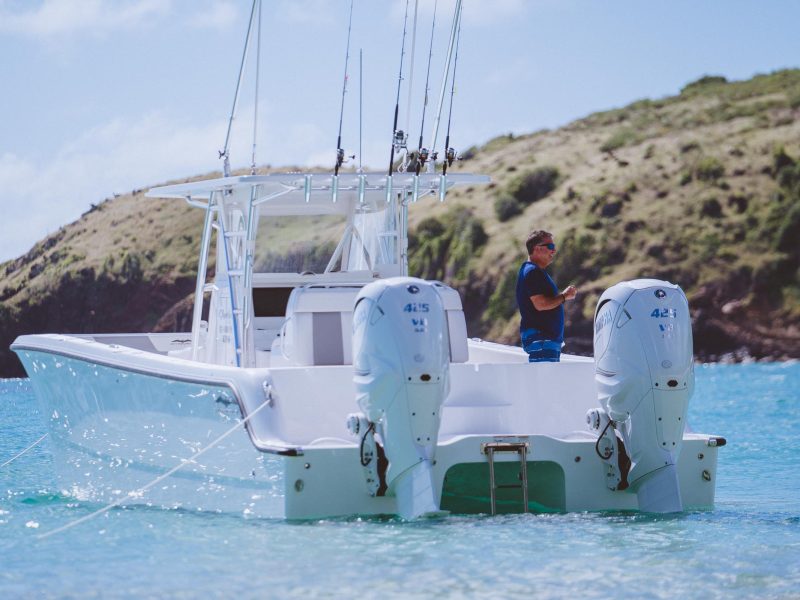 Multiple Power Configurations
Choose between a twin or quadruple outboard configuration for your new 35' Catamaran. With an array of power options available from Yamaha and Mercury, you can traverse the waves with incredible speed and stability. Enjoy the speed and effortless handling in any condition when you choose the 35' Catamaran from Xscape Marine.
Innovative Hull Design
The 35' Catamaran was designed with a hybrid semi asymmetrical hull, created in partnership with world renowned naval architects, Morrelli & Melvin. This patented design allows the boat to smoothly corner with an inward lean and knife through rough sea conditions. The 35' Catamaran ascends and descends with the waves for a smoother ride.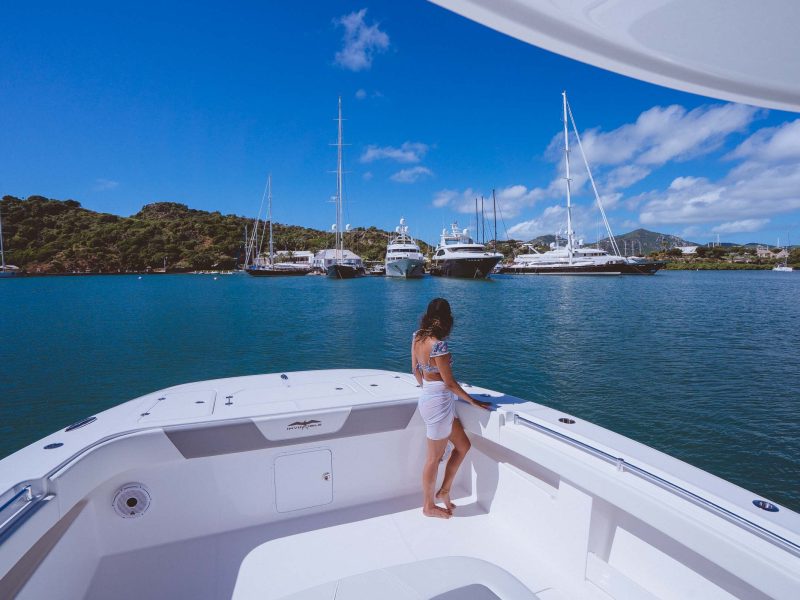 Incredible Storage Capacity
As well as a vast amount of deck space on this luxury boat, the 35' Catamaran also has a significant number of storage ports. An extra large coffin box onboard can be integrated into the console to also function as a lounger.  If fishing is on the agenda, you can also store your catches in a 70 gallon in-floor livewell  and a 65 gallon livewell found in the transom.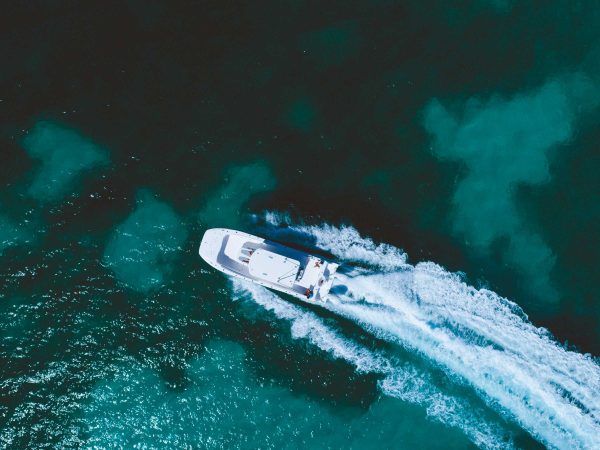 Invincible Performance & Innovation
Since 2006, Invincible have worked to create boats that offer serious solutions to serious boaters. They have sought to enable clients worldwide to pursue excellence by utilising intuitive designs, high quality construction and breath taking performance. With decades of experience, you can be assured that excellence comes as standard with Invincible.
Invincible continues to push boundaries and redefine limits to produce industry leading vessels. Each vessel they create seeks to allow boaters to move faster, smarter and safer. Their range of luxury boats are ideal for those interested in sportfishing and are engineered to deliver the best experience possible. They do this by only using only the best materials.
Every Invincible boat is designed to be legendary, and the 35' Catamaran is no exception. They are specialists in creating luxury boats designed exactly for you. Because when you're serious, nothing less than the best will suffice. Contact us today to find out more.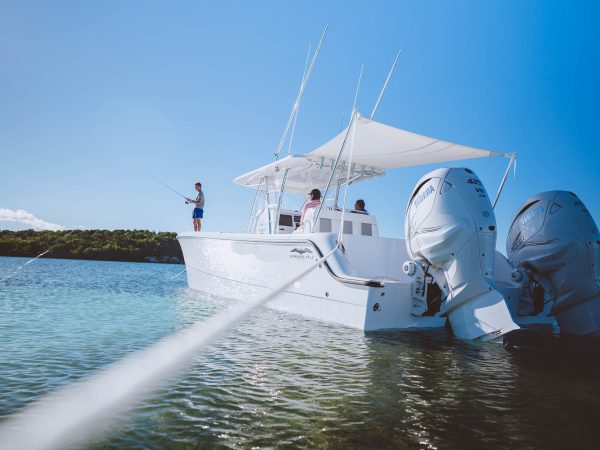 Why Choose Xscape Marine?
As Europe's sole distributor of Invincible boats, Xscape Marine are the experts in premium offshore luxury boats. Our head office is in Mallorca, making us perfectly situated to help customers across Spain, the Balearic Islands, France, Monaco, Italy, Slovenia, Croatia, Montenegro and Greece.
From Captains and Owner Representatives looking for the ideal tender to accompany a superyacht to families searching for the perfect first time luxury boat, Xscape Marine are here to help. We seek to provide all customers with the best customer service possible to create a smooth and hassle free experience.
Between our team, we have over 20 years of experience in serving the marine industry. Our notable expertise and dedication to customer care and quality make us frontrunners in the world of high quality luxury boats. When you choose Xscape Marine for your next Invincible, you can trust that excellence always comes as standard.