Looking to Learn More?
Xscape Marine are the sole trusted distributors of Invincible boats in Europe. Based in Mallorca, we help customers across Spain, the Balearic Islands, France, Monaco, Italy, Slovenia, Croatia, Montenegro and Greece. If you would like to find out more about the 36' Monohull, contact a member of our helpful team to discuss your requirements.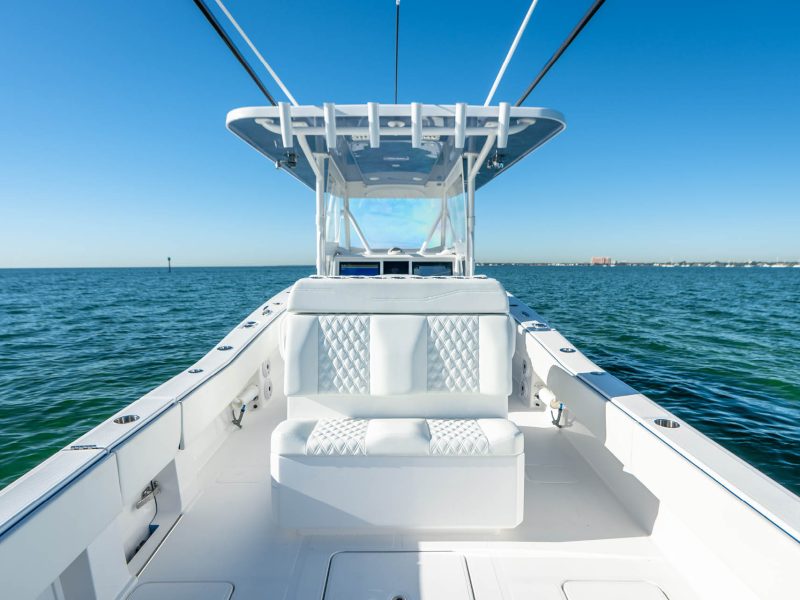 Industry Changing Performance
The 36' Monohull from Invincible is the one that started it all. Since its original design in 2006, the 36' Monohull continues to be the standard bearer for boats of its kind everywhere. It's signature look has been updated to combine the iconic signature design with modern day performance and innovation, so you can enjoy the best of both worlds.
As an Invincible boat, the 36' Monohull is highly customisable; from the power of the engines to the colour of the T-top, you can create a high performance boat unique to you. Its incredibly versatile design makes this boat the ultimate performer, tournament winner and family boat.
All Invincible vessels are built to be legendary, and the 36' Monohull is no exception. Built using the finest materials and the most current techniques available, you can expect no less than excellence when choosing Xscape Marine for your next Invincible. Find your perfect boat by contacting us today.
BOAT SPECIFICATIONS
| LENGTH OVERALL | BEAM | DEADRISE AT TRANSOM | WEIGHT WITH POWER | STANDARD FUEL CAPACITY | MAXIMUM HORSEPOWER |
| --- | --- | --- | --- | --- | --- |
| 36′ 8″ | 10′ | 22 DEGREES | 12,800 LBS | 475 GALLONS | 1,350 HP |
| 11.2 M | 3 M | 22 DEGREES | 5,806 KG | 2,159 LITRES | 1,350 HP |
Key Features
The 36' Monohull from Invincible will ensure an unforgettable experience for everyone on board with no shortage of amazing features. This boat has been making waves in the marine industry since 2006 and continues to do so. Equipped with useful features such as multiple storage ports and rod holders, this premium vessel is designed for ease.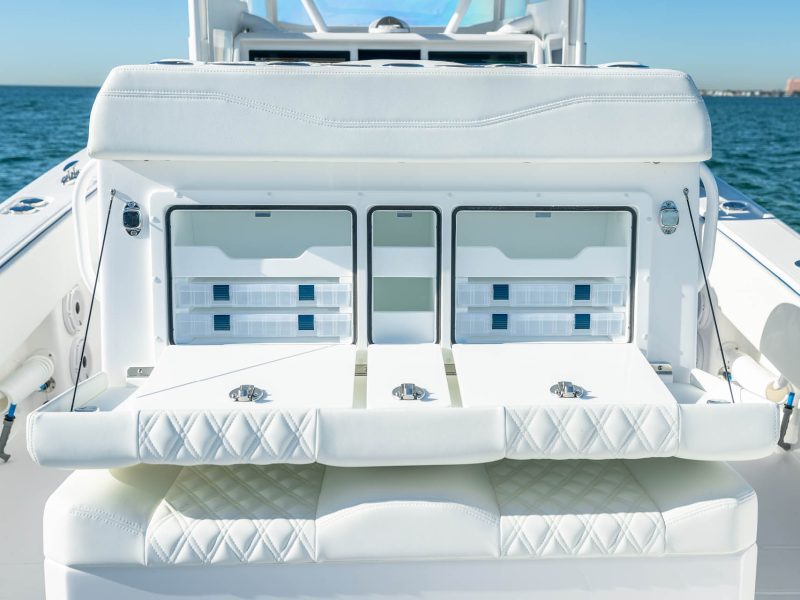 Incredible Storage Capacity
With an integrated coffin box lounger, you can also stow your food and supplies, so worrying about storage will be a thing of the past and your leisurely adventure on the water can last all day. For keen anglers, the 36' Monohull also includes two livewells and three large fish boxes in the floor of the monohull for easy storage.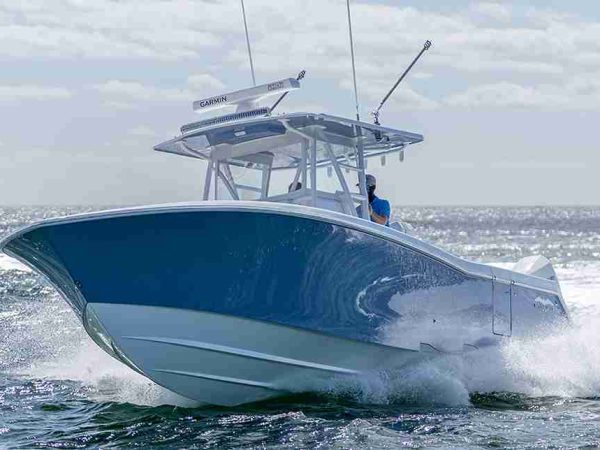 Stepped Vee Ventilated Tunnel
The 36' Monohull can reach incredible speeds whilst retaining its smooth handling thanks to the SVVT. The MYPD patented SVVT hull allows the 36' Monohull to offer increased speed, better fuel economy than conventional stepped hulls, and the lowest drag coefficient of any boat of its kind for an all around incredible ride.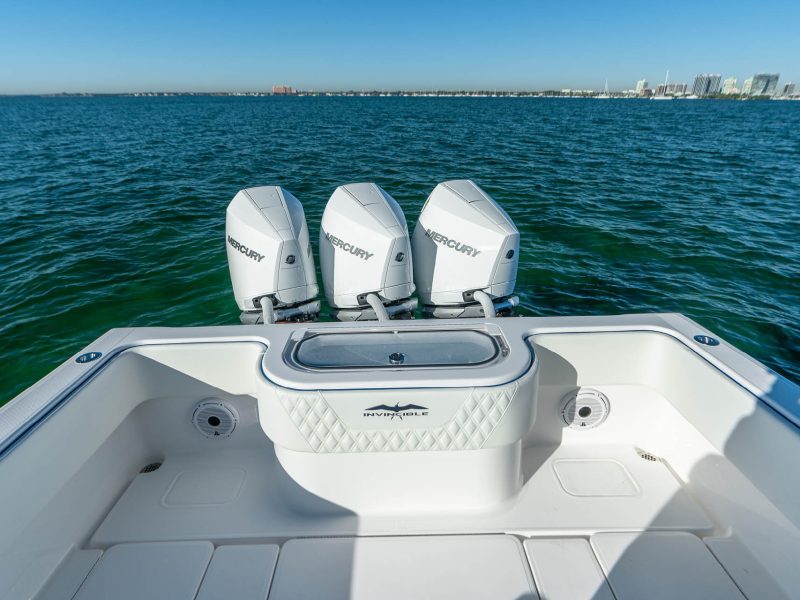 Twin or Triple Engines
When choosing the 36' Monohull, you can choose between Yamaha or Mercury power options. The 36' Monohull also has the flexibility to run either twin or triple configurations, from 900 horsepower up to 1350 horsepower. Combined with the SVVT hull, the smoothness of the ride will put a smile on the face of everyone on board.
Designed for Success
The 36' Monohull is designed to be a quick and manoeuvrable planing boat. With its smooth handling and operation, it's easy to traverse the waters so that you can be the first arrive wherever you go. The 36' Monohull is sure to impress new and seasoned passengers alike with its array of useful features.
For any luxury boat enthusiast, it's essential to have the right equipment and the right vessel. The 36' Monohull has repeatedly shown that it not only meets expectations but exceeds them at every opportunity. Whether going on a leisurely cruise with the family or a competing in a tournament, this boat is always ready for adventure.
Between the twin stepped ventilated hull design, and the vacuum bagged cored hull construction, the 36' Monohull can reach speeds of over 70mph. Its  475 gallon fuel capacity means that this vessel can accommodate the needs of even the most serious boaters. Contact us to find your perfect boat in the 36' Monohull.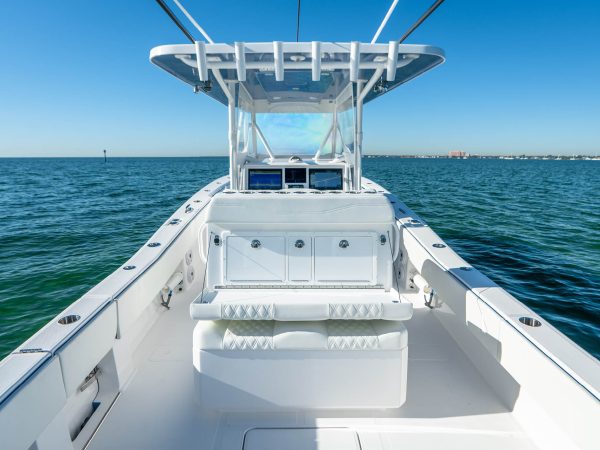 Why Choose Xscape Marine?
Based in Mallorca, Xscape Marine are Europe's sole distributor of Invincible boats. We are ideally situated to help customers across Spain, the Balearic Islands, France, Monaco, Italy, Slovenia, Croatia, Montenegro and Greece, revolutionising the marine industry one boat at a time.
We have served the marine industry for over 20 years between our expert team of professionals. We offer customers the highest quality service and aftersales support so that you can expect the best from Xscape Marine. Having distributed premium boats throughout Europe, we are confident in our ability to assist you.
Our helpful team are dedicated to helping you however possible. From families looking for the perfect luxury boat to Captains or Owner Representatives searching for a tender to accompany a superyacht, we're here to help. Find an Invincible fishing boat you can enjoy for years to come when you choose the 36' Monohull from Xscape Marine.
Get In Touch
HEAD OFFICE

Gran Via De Penyes Rotges
Oficina 6
07180 Nova Santa Ponsa
Illes Balears

Invincible Boats
MasterCraft Balearics