Are you looking for the perfect luxury vehicle to take out on the water this summer? Choose the 37' Catamaran by Invincible and enjoy unparalleled elegance paired with unbeatable horsepower. This boat is incredibly versatile and can be exactly what you need it to be, whether that's a spacious boat to entertain guests, a high-performance fishing vehicle, or even a luxury tender for your yacht.
Get in touch with our experienced and dedicated team to discuss whether this 37' Catamaran is the right boat for your lifestyle.
Immediately Available for the 2023 Season
Other boat manufacturers might suffer from long lead times, putting you and your dreams of racing across the Mediterranean on hold while they make their product. Our forward-thinking team at Xscape wants to get you out on the water as soon as possible. That's why we have models of our 37' Catamaran immediately available for purchase.
We have stock ready to go for the 2023 season, so you won't have to wait until next summer to enjoy the sun and the water.
Superior Handling and Maneuverability
The 37' Catamaran was originally designed to mimic the strength and speed of the 40' Catamaran without the need to use up extra dock space. The result is a compact, highly agile vehicle that boasts the same luxury as its predecessor. The now-patented multihull structure was specially adapted to the new size with no compromises in handling or performance.
Get right up to your ideal speed with 1,200 horsepower at your fingertips on the 37' Catamaran. Whether you'd want to cruise across the water at 40.8–49 mph or feel the wind whipping your face at a lightning-fast top speed of 79 mph, this watercraft is ideal for navigating the sea. 
Revolutionary and Spacious Design
The 37' Catamaran has an elegant open layout that's perfect for entertaining guests. There's enough seating for everyone and 360-degree walk-around fishability for any anglers that may be on board. Thanks to the sturdy 12' beam, the cockpit of the watercraft is stable even in the choppiest waves, so even novice boaters can feel safe and secure. The 37' Catamaran has a range of 600+ nautical miles, so you might need to pack some essentials for the trip. Not to worry—this model has amazing storage options with a coffin box, four in-floor compartments, and multiple storage spaces scattered throughout the cabin.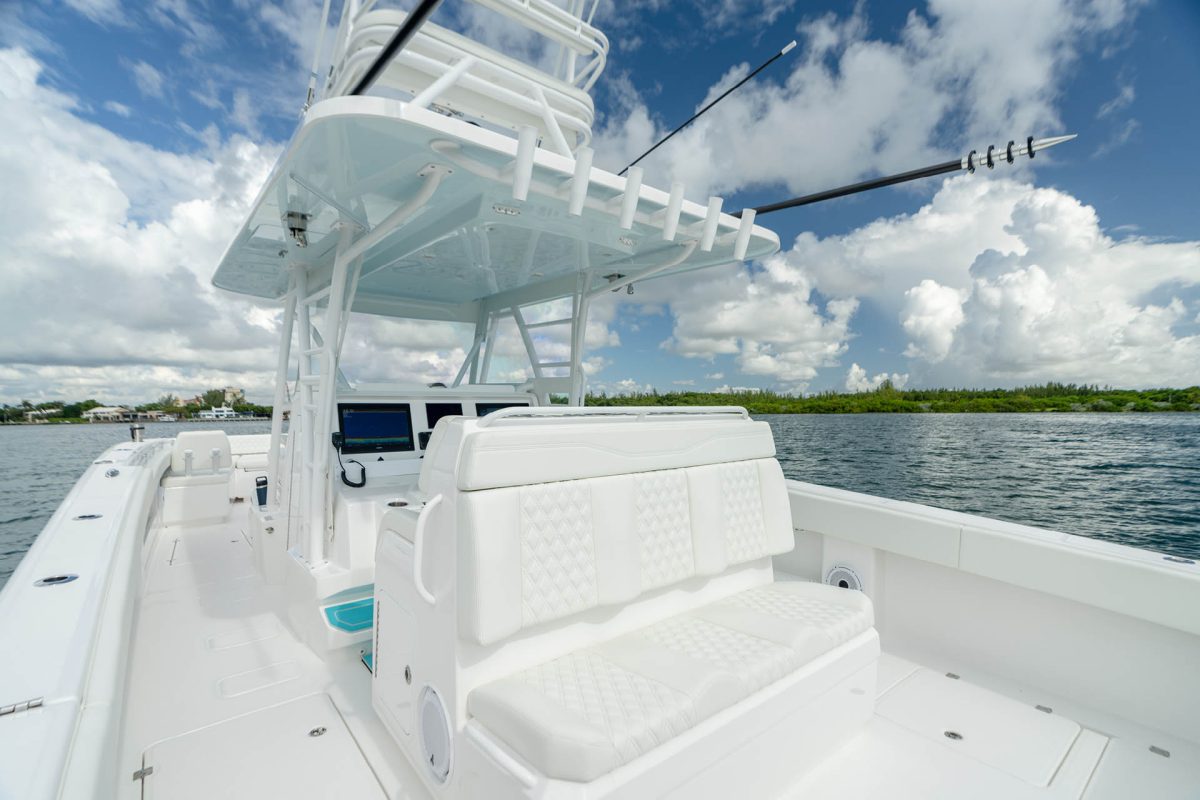 Choose Xscape Marine for your Boating Needs
In addition to the 37' Catamaran, we offer a range of watercrafts specially designed with your lifestyle in mind. As Europe's sole distributor of Invincible boats, we offer exclusive access to top-of-the-range models for whatever you need.
We can help you find your perfect boat, whether you're looking for the perfect accompanying boat to your superyacht or a great luxury family boat to take out on the water. For the 2023 season, we'd highly recommend the 37' Catamaran, but we can also discuss other options more suitable for you. Just get in touch with us today to start your nautical adventure!