The water can be an unforgiving place. A place where in only a matter of seconds the best days can become the worst. But ever since the very first monohull hit the waves over 10 years ago, Invincible boats have been making it safer. Regardless whether you need a boat to get you from A to B or you're an experienced angler, an Invincible boat is your best option.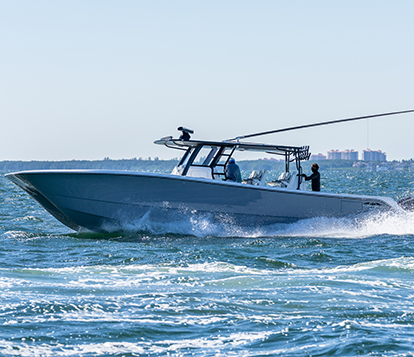 First founded by Alex Lipworth in 2006, Invincible models are manufactured to deliver the best possible performance. Invincible boat owners get maximum satisfaction. Their boats are the fastest and have the flattest hulls on the market. During acceleration, Invincible boats have almost no bow rise. This offers premium forward visibility at all speeds!
Invincible claim that their boats offer the lowest drag coefficient of all monohull options on the market. An invincible boat must be experienced to be believed.
Invincible boats have reinvigorated the centre console boat market with their range of heavy duty and high powered fishing boats. Their mission is to continue manufacturing the very best offshore fishing boats available on the market. Always fast. Always fit for purpose.
We are Europe's only recognised distributor of Invincible boats and can offer well informed advice on our exclusive line of monohulls and catamarans.
Perhaps the most iconic of all invincible models is the 33' Monohull. For over a decade now, this monohull has offered customers the truly unique Invincible experience in its most compact form. Fishing and riding as if much larger vessel but handling like a small one, this boat is designed to incorporate the high performance of the patented Stepped Vee Ventilated Tunnel. This monohull benefits from the ease of use of twin engines, and is also available at 36', 39' and 43'.
Invincible's catamarans are available at 5 different lengths; 33', 35', 37', 40' and 46'. Even at the shortest 33' length, these catamarans aren't lacking in any big boat features! Invincible's catamarans are versatile machines, with effortless manoeuvrability. These boats also offer unrivalled stability and exceptionally generous under-deck storage for vessels of their sizes. Invincible's 46' catamaran changed catamarans forever. With a fuel capacity of 1,000 gallons, this boat has a maximum horsepower of 1,800!
The 46' catamaran features a deluxe console with fully-lined interior as standard.
Invincible are now taking orders for their incredible 46' Pilothouse. This vessel offers the same performance as the 46' catamaran but with sleeping space and further comfort. The Pilothouse weighs an incredible 20,000 lbs and yet still remarkably handles as if a much smaller boat. The standard features of this vessel include above and below deck livewells, 3 automatic 2,000 GPH bilge pumps and under gunnel lighting.
Regardless of which model you opt for, Invincible boats are the best available on the market. By 2006, Alex Lipworth had grown tired of boats that weren't smooth enough, tough enough and fast enough. It was this which motivated him to build something better. Alex enlisted renowned naval architect Michael Peters to help him, recognising that building exceptional vessels wouldn't be easy or cheap.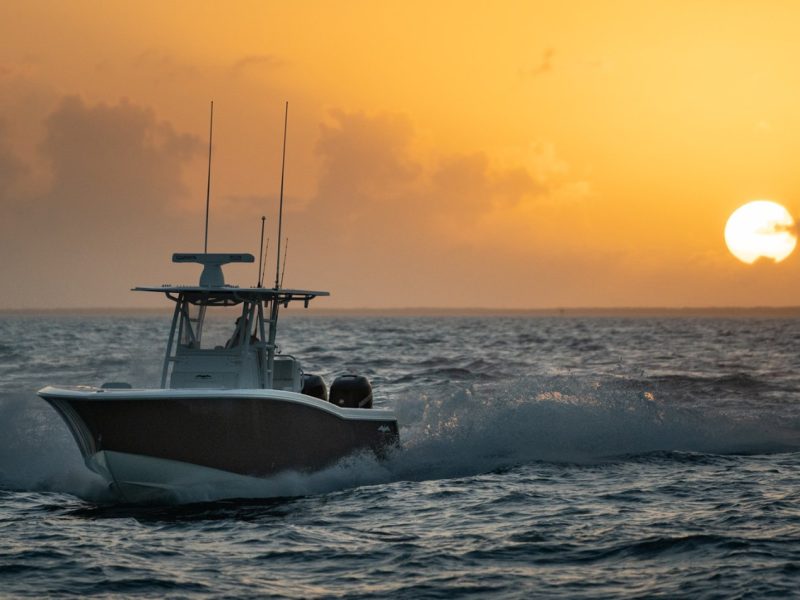 Fast forward to today, and Invincible offers legendary smooth rides and athleticism. Their boats are made from the best materials, making them the best products. In addition, the premium quality of materials used is aided by meticulous design details. For example, The placement of smaller details such as console design and footrest angle provide slim advantages over competitor's offerings.
Imitation is the sincerest form of flattery. Many competitors have tried to replicate similar hull designs to Invincible. Not one has come close.