Looking to Learn More?
Based in Mallorca, Xscape Marine are the sole distributor of Invincible boats in Europe. With our head office's central location, we are well situated to help customers across Spain, the Balearic Islands, France, Monaco, Italy, Slovenia, Croatia, Montenegro and Greece. Create the perfect 43' Open Fisherman by contacting our helpful team today.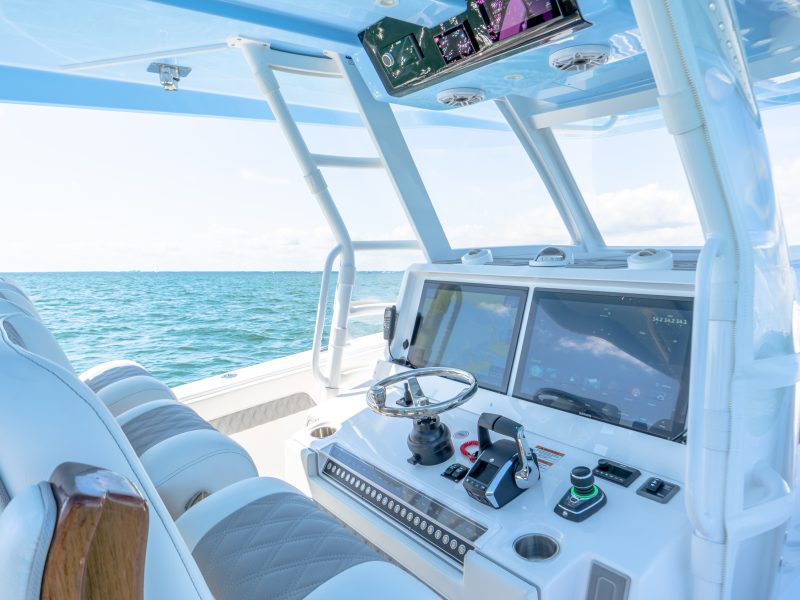 A Tournament Tested Centre Console
Everything you loved about its tournament tested predecessor has been reimagined in the groundbreaking design of the 43' Open Fisherman. This newest addition to the lineup carries on the Invincible legacy whilst also ensuring to cater to casual passengers and anglers alike.
The 43' Open Fisherman was created with the tournament winning DNA of its predecessor and is designed to help bring offshore boating to new heights. With serious passage making and exceptional handling capabilities engineered into every inch, passengers can expect uncompromised performance in uncompromising conditions.
With a 675 gallon fuel capacity and a range of over 600 nautical miles, the 43' Open Fisherman is always ready to take you on your next adventure. Customise every feature from the hardtop to the colour of the hull to create a unique boat perfectly suited to your needs. Talk to a helpful member of our team about creating your ideal 43' Open Fisherman .
BOAT SPECIFICATIONS
| LENGTH OVERALL | BEAM | DEADRISE AT TRANSOM | WEIGHT WITH POWER | STANDARD FUEL CAPACITY | MAXIMUM HORSEPOWER |
| --- | --- | --- | --- | --- | --- |
| 42′ 9″ | 11′ 7″ | 22 DEGREES | TBD | 675 GALLONS | 1,800 HP |
| 13 M | 3.5 M | 22 DEGREES | TBD | 3,069 LITRES | 1,800 HP |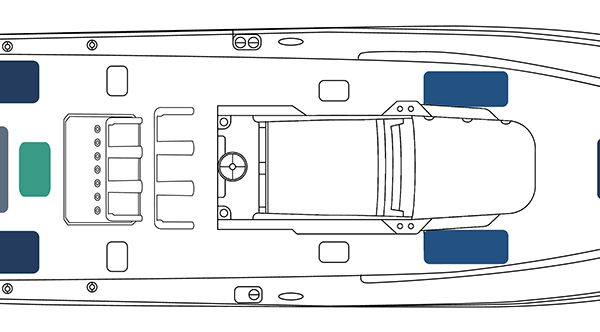 Key Features
Designed by Invincible's Senior Vice President of Engineering Scott Wood, the 43' Open Fisherman was created to be the offshore boating machine you need alongside the comfort you want. With all new features and additions, the 43' Open Fisherman has swiftly become one of the most versatile luxury boats available.
Open Layout
The 43' Open Fisherman has a single level deck layout, and 360 degree walk around design for ultimate ease and unimpeded views. For keen fishers, rod holders and tackle storage ports are placed throughout the boat, so this boat is always ready when you are. When you want to explore the waters, the 43' Open Fisherman will be ready.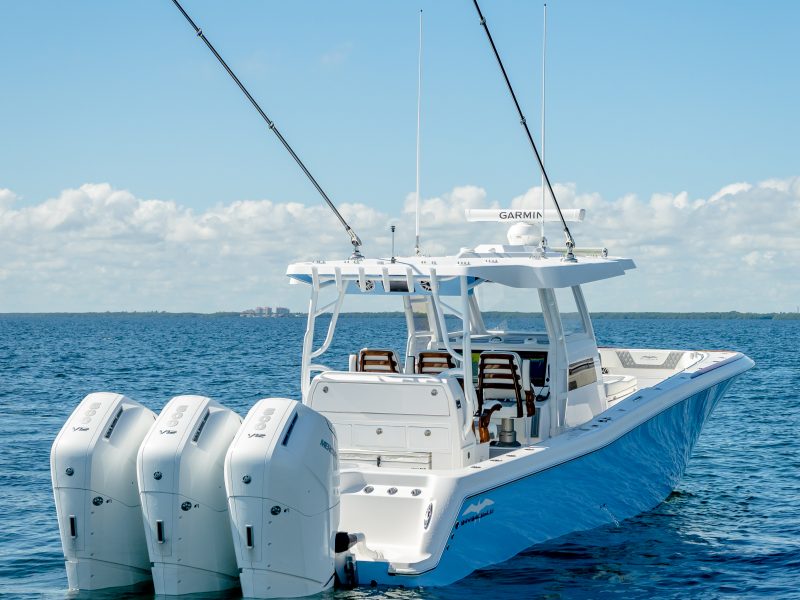 Evolved Design
The cabin and cockpit have undergone an exciting upgrade in the 43' Open Fisherman's evolution. Designed with efficiency and comfort in mind, the 43' Open Fisherman still utilises the revolutionary Stepped Vee Ventilated Tunnel (SVVT) hull from Michael Peters Yacht Design for one of the lowest drag coefficients on the market.
Unparalleled Performance
As the newest addition to the Invincible family, the 43' Open Fisherman represents years of research and luxury boat expertise packed into one incredible package. Boasting incredible power and agility, the 43' Open Fisherman is sure to provide an experience like no other. Leave a lasting impression without saying a word with this luxury boat.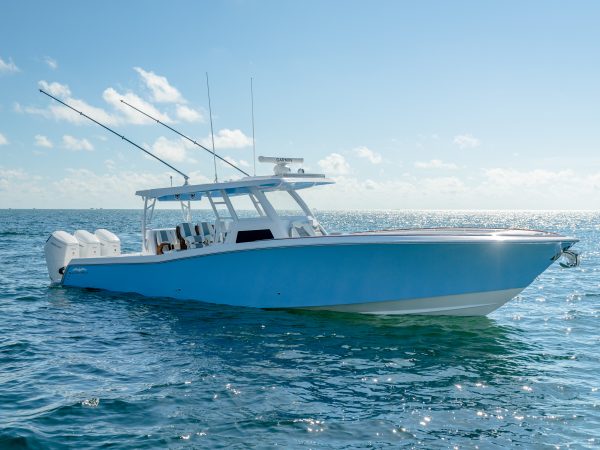 A Revolutionary Reimagining
The 43' Open Fisherman is the newest reimagining of its iconic predecessor, the 42' Open Fisherman. Engineered to provide the same excellence, this new reimagining sees significant changes to ensure an even more luxurious onboard experience. The 43' Open Fisherman is the high performance boat you need, combined with the comfort you want.
A new hardtop option has been added to accommodate additional electronics for the cockpit and helm areas and a rear entry second station. The cabin is fitted with a full sleeping berth, vanity sink, and head compartment for a comfortable overnight stay.
There is also the new extended console, helm and cabin, which have been moved forward to accommodate dual row seating without affecting the accessibility of the cockpit. The largest onboard fish box can also be housed within the standard extended console lounger for ease of access. Get in touch with us today to find out more.
Why Choose Xscape Marine?
Xscape Marine are Europe's only trusted distributor of Invincible boats. We are experts in premium boating vessels with over 20 years of experience serving the marine industry. Our expertise and dedication to excellent customer care make us the perfect choice to help find your next boat. Enjoy a smooth and hassle free experience with Xscape Marine.
With our head office in Mallorca, we are ideally situated to assist customers in the surrounding areas. Areas we distribute to include Spain, the Balearic Islands, France, Monaco, Italy, Slovenia, Croatia, Montenegro and Greece. From luxury boats to share with family and friends to tournament ready vessels, we're here to find your perfect boat.
As a result of our significant experience and expertise, we are well equipped to assist any customer. From Owner Representatives and Captains to first time buyers, we can find the perfect superyacht tender or family boat that's right for you. Exceptional customer care comes as standard when you choose Xscape Marine.