Looking to Learn More?
As well as being the sole distributor of Invincible boats across Europe, Xscape Marine's head office is ideally located in Mallorca. With our convenient central location, we are well suited to assist customers in Spain, the Balearic Islands, France, Monaco, Italy, Slovenia, Croatia, Montenegro and Greece. Find out more about the 46' Catamaran by contacting us today.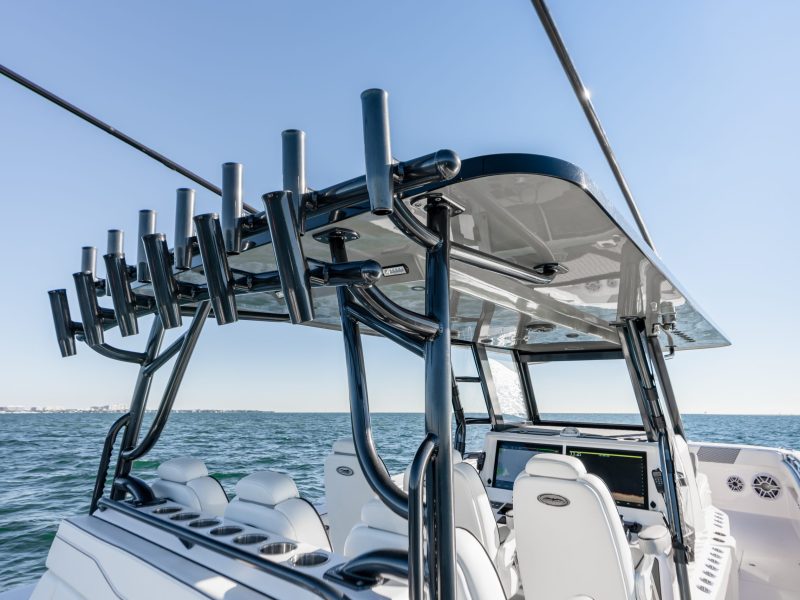 The Ultimate Offshore Boating Experience
Enjoy unparalleled luxury and convenience with the 46' Catamaran. The spacious deck layout means that everyone on board can enjoy the leisurely experience the 46' Catamaran has to offer. With its single deck layout with 360 degree walk around access, everyone onboard can enjoy unimpeded views and an immersive experience.
As a result of its unprecedented size, range and amenities, the 46' Catamaran can offer the ultimate offshore boating adventure. It features quadruple outboard engines with power options from Yamaha or Mercury for exceptional speed and handling. The 46' Catamaran is designed to carry everything whilst achieving world class performance in any conditions.
Inherent speed and easy handling are signature traits of an Invincible boat, and the 46' Catamaran is a testament to that. With a fuel capacity of 1000 gallons and a maximum horsepower of 1800 HP, everyone onboard can enjoy top speeds of up to 80mph. The 46' Catamaran boasts excellent performance and comfort for an unforgettable experience. Get in touch to find out more.
BOAT SPECIFICATIONS
| LENGTH OVERALL | BEAM | DEADRISE AT TRANSOM | WEIGHT WITH POWER | STANDARD FUEL CAPACITY | MAXIMUM HORSEPOWER |
| --- | --- | --- | --- | --- | --- |
| 45′ 11″ | 12′ | VARIABLE | 26,500 LBS | 1,100 GALLONS | 1,800 HP |
| 14 M | 3.7 M | VARIABLE | 12,020 KG | 4,164 LITRES | 1,800 HP |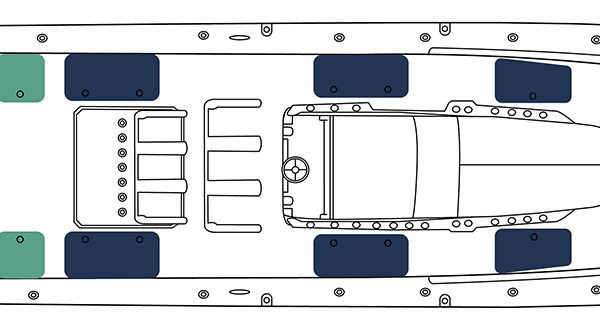 Key Features
When you step onboard the 46' Catamaran, you'll be greeted by no shortage of incredible features to make your sea adventure the best it can be. Furthermore, the 46' Catamaran has an array of customisable features for you to choose from. Everything is designed for ultimate ease and comfort, from the power options to the luxurious seating.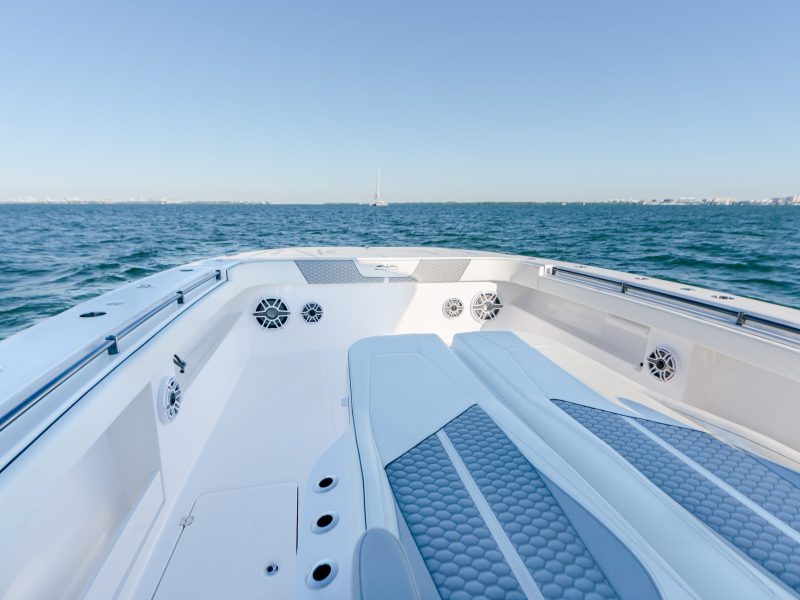 Patented Hull Design
The 46' Catamaran takes the hybrid semi asymmetrical hull design that revolutionised catamarans forever and takes it to a whole new level. The patented Morrelli & Melvin design is renowned for allowing catamarans to lean into turns with incredible stability and control. The ventilating steps allow you to cut through rough seas effortlessly.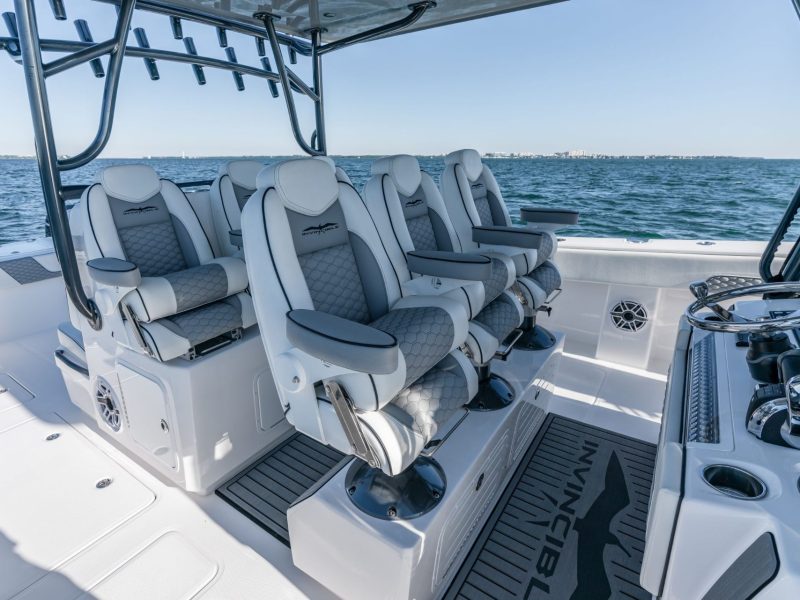 Spacious Seating
Worrying about seating for large parties will be a thing of the past with the 46' Catamaran. With luxurious dual row seating completely covered by a protective hardtop, everyone on board can relax while cruising the waters. There is also an extended console coffin and multiple fold out seating options to choose from. Enjoy everything the water has to offer in comfort.
Numerous Storage Ports
With the 46' Catamaran's incredible storage capacity, you can spend the whole day out on the water without a care. Stow your drinks and any essentials in one of the many generous storage ports throughout the deck. If you are interested in fishing, you can bring big catches in through the tuna door and store them in one of the inbuilt livewells.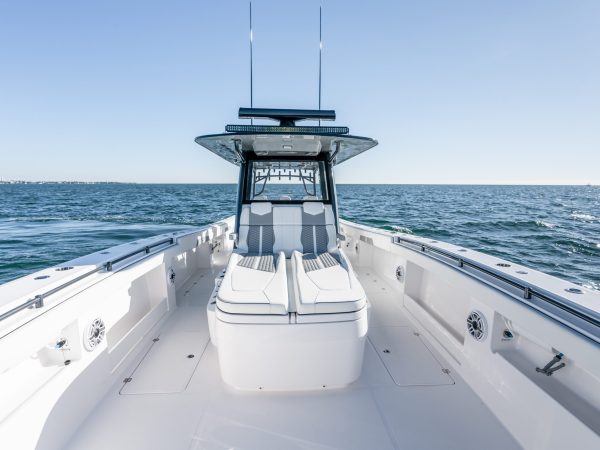 The Invincible Standard
When you choose a boat from Invincible, excellence is engineered into every detail from bow to stern. Since 2006, they have shown the world what monohulls and catamarans can do by combining superior functionality with extreme comfort. Every boat in the Invincible family is designed to deliver exceptional performance and style.
In their decades of service to the industry, the team at Invincible have sought to push the limits of what premium high performance sportfishing and luxury boats can achieve and redefine standards through innovation. Since then, they have revolutionised the marine industry and helped boaters to move smarter and faster in safety.
Expert builders create every boat using only the most current techniques and the finest materials available to provide the best possible quality. Invincible design boats that offer serious solutions to serious boaters, and the 46' Catamaran is no exception. To find out more about the 46' Catamaran, contact a member of our team today.
Why Choose Xscape Marine?
Here at Xscape Marine, we are the sole distributor of Invincible boats in Europe and pride ourselves on being experts in premium offshore luxury boats. Our centrally located head office in Mallorca means we can easily assist customers in Spain, the Balearic Islands, France, Monaco, Italy, Slovenia, Croatia, Montenegro and Greece.
Between our expert team of professionals, we have over 20 years of experience serving the marine industry. Our specialised expertise means that we have a strong understanding of the requirements of our customers. As a result, we are confident we can supply you with an Invincible boat that doesn't just meet your expectations but exceeds them in every way.
Having distributed premium boats across Europe, our helpful team are committed to providing customers with a smooth and hassle free experience. From first time buyers seeking the ideal family boat to Captains and Owner Representatives looking for a tender to accompany a superyacht, Xscape Marine are here to help.